Camp News
Carver Camp 2018 Summer Camp Highlights
Please note that the Living Testimony Dinner is cancelled. Come back soon for upcoming events and more information on Carver Camp offerings.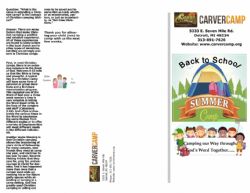 Download the registration form and information for either session 1 or 2 of the 2019 Summer Day Camp. By clicking "READ MORE" below.
Join the Metropolitan Baptist District Carver Camp Outreach Ministry in a Family Bowling Event! Satruday, June 15, 2019 at 2:30pm check your family in at Renaissance Bowling Lane Center to enjoy two hours of bowling fun and refreshments. Contact Sis. Bernice Toles, Sis. Madlyne Dansby, or Pastor Burnard Byles for more information.